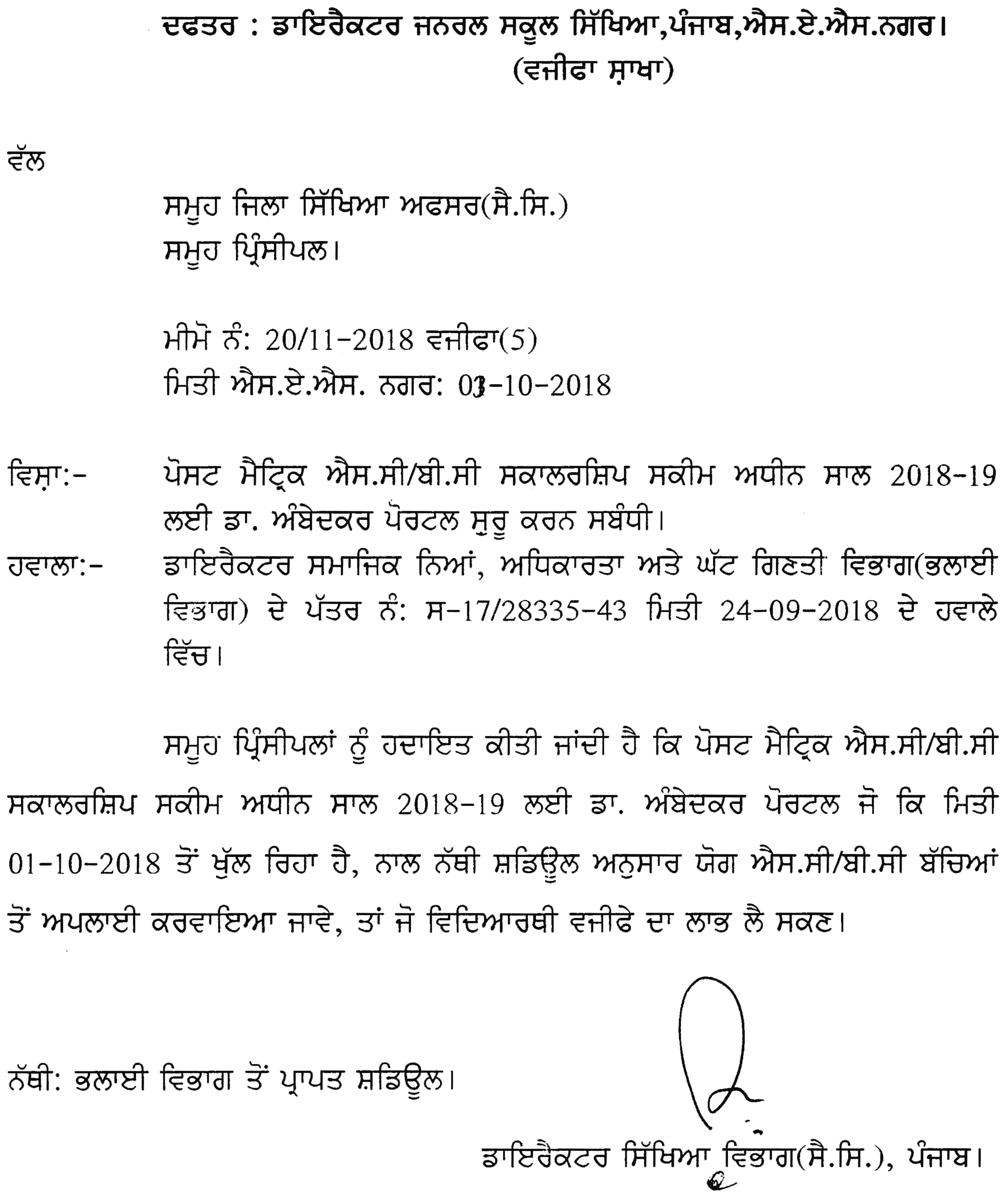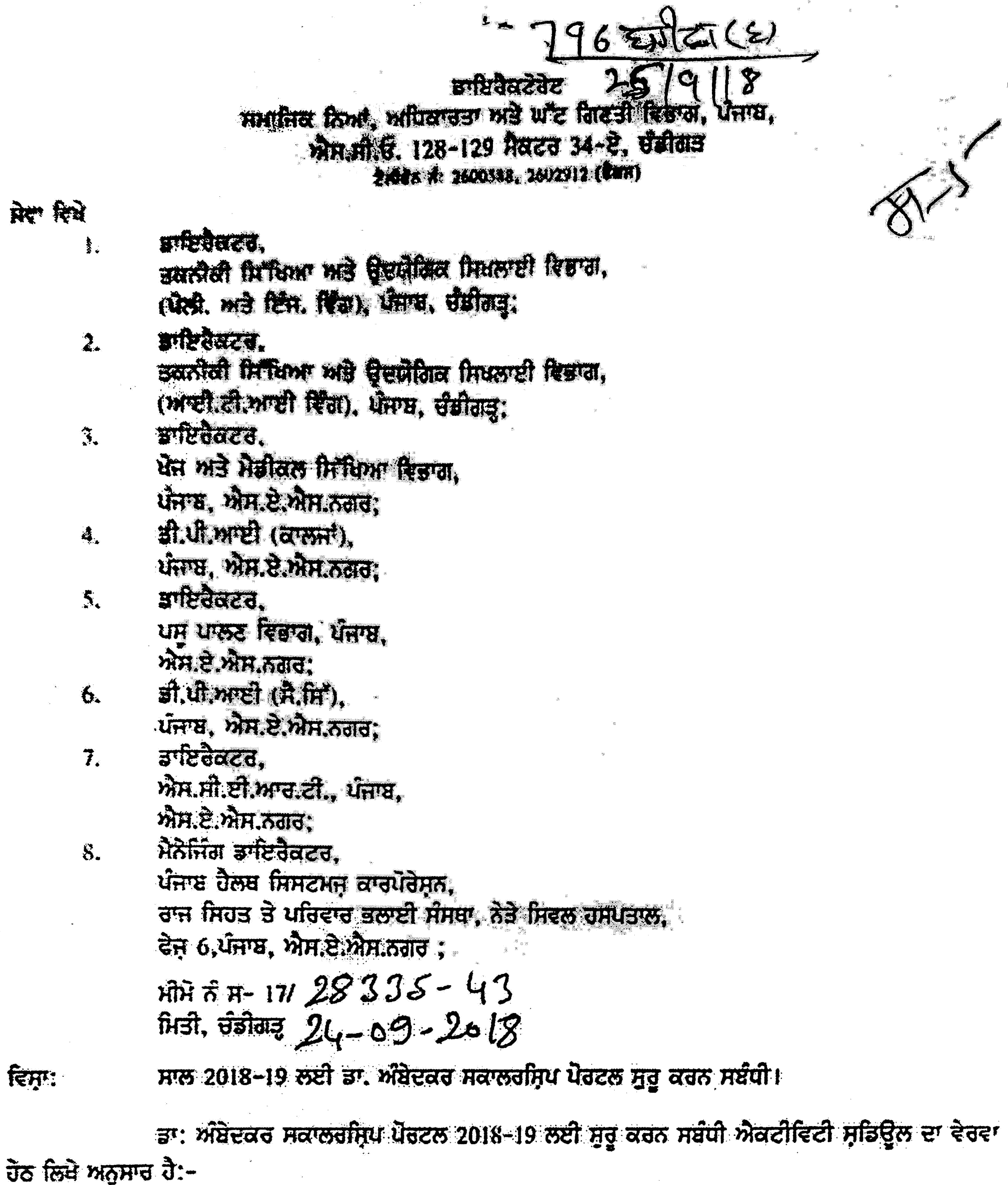 ACTIVITY SCHEDULE 2018-19
1.
Opening of portal
1st October, 2018 9.00 AM
2.
The last dale for submission of online applications by the students (Fresh & Renewal cases) to the institutes
15th October, 2018
3.
The last date for institutes to send the online proposals to the approving authority/ sanctioning authority
31st October, 2018
4.
The last date for Institute to forward complete cases after corrections to the approving authority/sanctioning authorities
30th November, 2018
5.
The last date for the approving authority to send online proposals to line departments/ sanctioning departments for scholarship
10th December, 2018
6.
The last date for line departments/ sanctioning departments to send online proposals to Welfare Department for scholarship
20th December, 2018 (upto 10.00 PM)
7.
PORTAL WILL BE CLOSED ON 20TH DECEMBER, 2018 AT 10.00 PM

Centrally Sponsored Scheme of Post Matric Scholarships with effect from April,2018
Object:-
The objective of the scheme is to provide financial assistance to Scheduled Caste students studying at post matriculation stage to enable them to complete their education.
Scope:-
These scholarships are available for studies in India only and are awarded by the Government of the State/Union Territory to which the applicant belongs i.e. permanently settled or domiciled.
Means Test:-
• Scholarships will be paid to the students whose parents/guardians income from all sources does not exceed Rs. 2,50,000/- (Rupees Two lacs fifty thousand only).
• Income certificate is required to be taken once only i.e. at the time of admission to courses.
• Income declaration of self employed parents/guardian should be in the form of certificate issued by Revenue officer not below the rank of tehsildar.
• A certificate of caste duly signed by an authorized revenue officer not below the rank of Tehsildar.
Components of the scholarship:-
1) Maintenance Allowance:- For hostellers Rs.380/- per month, for day scholars Rs. 230/- per month.
2) Reimbursement of compulsory non-refundable fees. Examination fees and continuation fees (by PSEB).
3) Additional allowance for SC students with disabilities Rs. 160/- per month.
Eligibility of the candidate:-
• Candidates belonging to one State but studying in other State will be awarded the scholarships by the State to which they belong.
• The award once made will be payable from the stage at which it is given to the completion of course subject to good conduct and attendance of 75% in every academic year.
Number of documents required for applying
1) One copy of application
2) One copy of passport size photograph with signature of student
3) Self attested copy of matriculation and 10+1 class.
4) A certificate of Caste duly signed by Tehsildar.
5) Income declaration of self employed parents in the form of certificate issued by Tehsildar. Employed parents are required to obtain Income certificate from their employer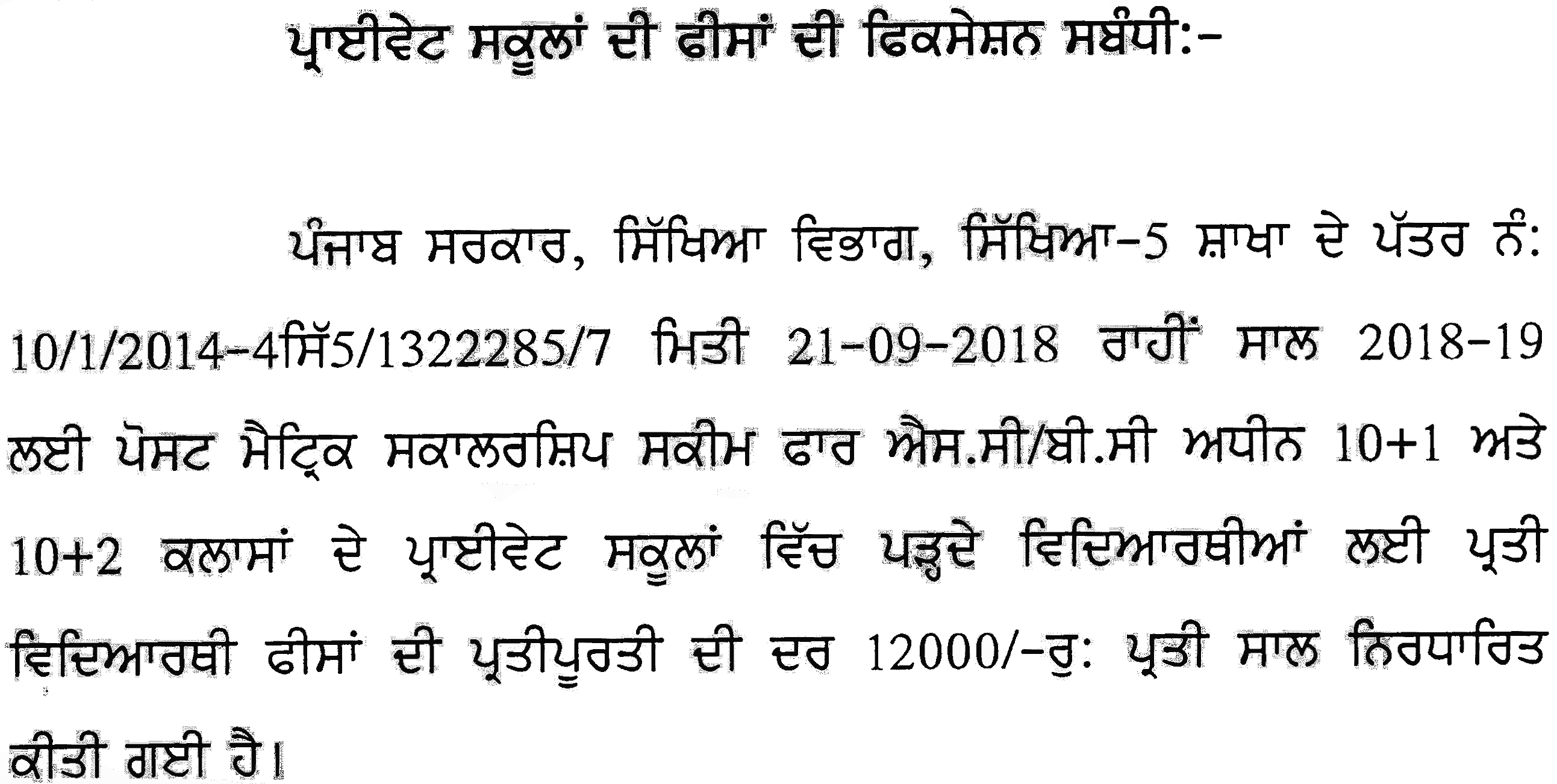 Download: PDF