SUB:- Mid Career Interaction between Armed Forces and Civil Service Officers during FY 2018-19.
S.N

o.

Month
Institute
Theme
Date
1
Dec.

2018

DOPT

IIPA- N. Delhi

Food and Energy Security
03-05 Dec. 2018 (3 Days)
2
Feb.

2019

MOD- Air Force CAW Hyderabad
(a)Civi 1-Military Interface to tackle threat of terrorist attacks to military installations and infrastructure (b) Unified intelligence
12-14 February, 2019(3 Days)
3
April,

2019

MOD-Army HQ South Western Comd Jaipur
(a)     Civil-Military coop in Disaster Management during large scale natura and manmade disasters.

(b)    Civil-Military coop in Aid to Civil Authority during vide spread agitation, demonstrations and riots.

01-03 April, 2019(3 Days)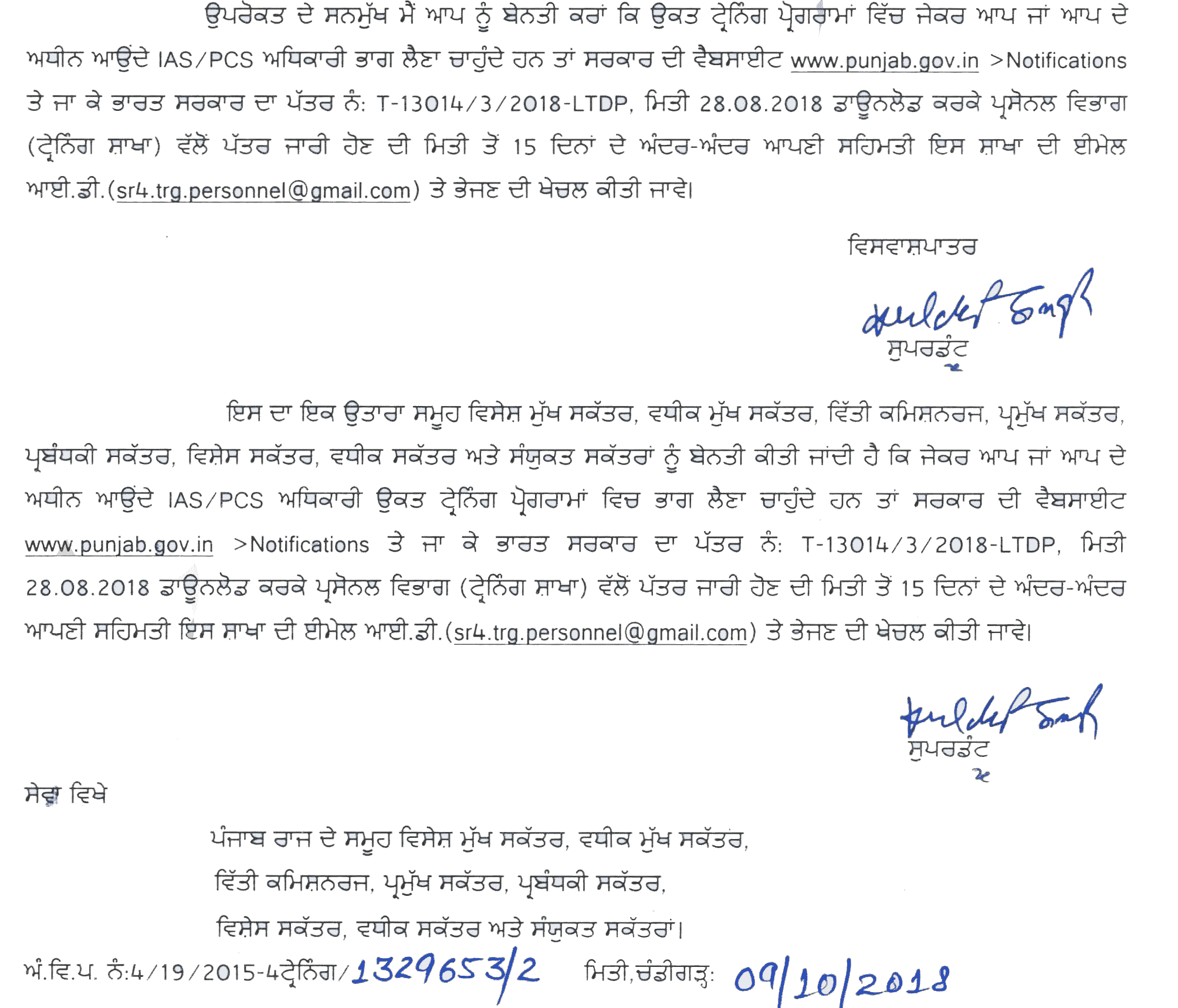 No.T-13014/3/2018-LTDP
Government of India
Ministry of Personnel, Public Grievance & Pensions
Department of Personnel & Training
(Training Division)
3rd Floor, Block IV, Old JNU Campus
New Mehrauli Road, New Delhi – 110 067
Dated: 28th August, 2018
To
Chief Secretaries/Administrator of all the State Governments/ Union Territories as per list attached.
Sub: Mid- Career Interaction between Armed Forces and Civil Service Officers during FY 2018-19.
Sir/Madam,
Department of Personnel and Training has been organizing Mid-Career Interaction between the Armed Forces and Civil Services Officers in collaboration with the Ministry of Defence for the last many years. The basic objective of this programme is to provide exposure of IAS/IPS/IFoS and other civil officers to the military to meet unforeseen situations at short notice. Such interactions are likely to benefit both the Armed Forces and Civil Services officers by mutual learning from each other's strength and also by imbibing the best points of each other's work culture, ethos and customs. This, in the long run, is expected to help them to combat future challenges to national security in a better manner.
2. The Joint Civil-Military interaction courses are conducted at the tactical and operational levels. A detailed schedule has been prepared by the DoP&T, Training Division in consultation with Ministry of Defence for the various programmes to be conducted at the various Training Institutes in various Regions of the country every year. The Calendar for Mid-Career Interactions during 2018-19 is being enclosed for your ready reference.
3. Every year this Department requests for nominations of at least three (3) officers, one each from IAS, IPS and IFoS (DM/ADM;SSP/SP/Addl. SP and DP0 level), from your State for participation in the Programme. In case, the officers from the All India Services are not available, it is also requested to depute officers belonging to the State Civil Services (SCS) who are working at the cutting-edge level in the districts.
4. While taking stock of the nominations for the above programmes, it has been observed that the State Government doesn't nominate sufficient number of officers against allotted vacancies. Since these interactions are very carefully planned with the active involvement of various organizations, hence it is requested to depute suitable officers to participate in the programme. This Department is seeking your intervention in ensuring the requisite nomination of suitable officers for the MCIPs so as to derive maximum benefit from these programmes.
Encl: As above
Yours faithfully,
(A N Narayanan)
Deputy Secretary to the Government of India
Download: PDF